One of the other things on my shortlist for the Compiegne area was the Glade of the Armistice and
Musée de l'Armistice
- the French national war memorial in the middle of the forest of Compiegne. It was here that the Armistice was signed in November 1918, in Marechal Foch's private railway carriage. It was also where the invading Germans had the French sign the surrender in 1940, after which they destroyed the site and had the railway carriage taken to Berlin, where it was destroyed.
After World War Two the site was restored and another carriage from the same manufacturer was turned into a replica of Foch's carriage. It's this that you can still see today. Outside the small but interesting museum, there are a number of memorials related to both World Wars and the location of the tracks and carriages is marked out in stone.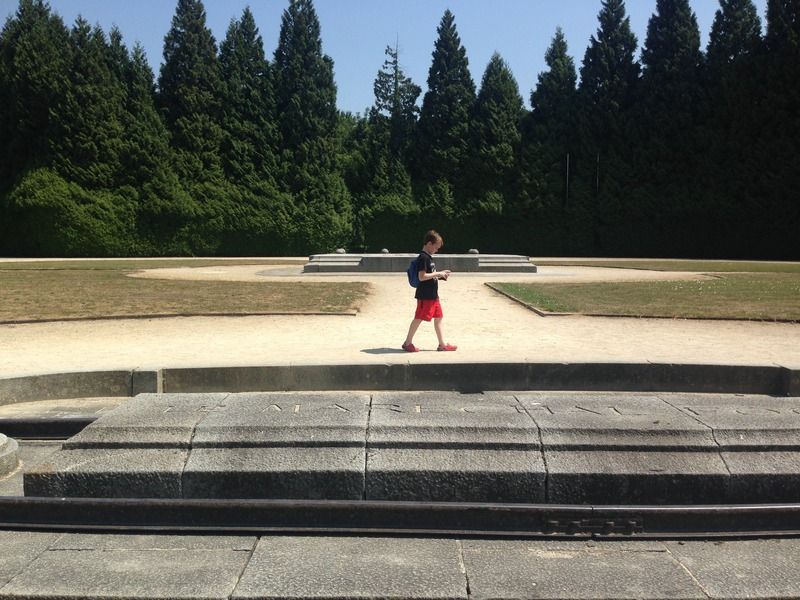 One of the more modern memorials - this one to peace.
The site is level with fine gravel paths - it's quite a wheel from the car park but completely flat and thankfully shaded - this was the day
it hit 40 degrees in Paris
! The museum itself is accessed by several steps and there is a small, elderly but serviceable platform lift. I had to get No-so-small Scottish Boy to fetch someone with the key (his first French lesson turned out to be "l'acenseur s'il vous plait"). There's another platform lift inside, which is worth using to get up to the rest of the exhibit.