So, I said I would do a post about my experience using my own chair in airports for the first time. It was mixed. First, though, I need to review my latest wheelchair accessory - a pair of
Quickie Caddy
thingamajigs. As previously, I bought these myself, this isn't a paid review, etc.
One of the things I'd been thinking hard about was managing luggage with the wheelchair. I think I am best described as stubbornly independent, but for the last few years I've booked wheelchair assistance at airports. What I hoped was, with my own chair, to regain some independence at airports - particularly in those long boring hours between check-in and boarding. On our trip to NZ last year this meant forgoing wheelchair assistance and using crutches to get through the airport. On previous trips I've found us spending long periods waiting in very dreary corners.
The other place I had worries about was getting from the car to check-in and again from the plane to my accommodation at the other end. You can't sling a heavy backpack over the handles of a Quickie Helium, because it's so light. And in my case, it also has no handles. When I saw the Quickie Caddie it seemed a good solution. This picture, from Dutch blogger
Leven Op Wiele
n, had me convinced it was viable:
So I bought a pair. They're not cheap - at over £40 - and I was surprised how light they were when they arrived. I was also worried about them getting in the way when I was using my chair day to day.
When I unpacked them, this is what I found:
That's one - there are two but I forgot to take the pick before I installed one. They were easy to fit - apart from the fact that as Quickies are made in the USA they use non-Metric hex keys. I had to buy a set of those (
3 quid from Wilko
). When not in use, the spike thingy (seriously, what's a good name for these!) folds up parallel to the fork of the chair and they weigh next to nothing. They fold down easily so you can use them for a basket in a shop or, for example a box containing a loom (which was my first use of them!) I did discover, with the loom, that if you're travelling over bumpy ground, down slopes, or on cobbles, it's best to use a strap of some sort to secure the load. On a flat smooth surface, for example in a shop, you don't need to as there are non-slip grips you attach to each one. For my trip to Paris I invested in a pair of
Velcro straps
which I wrapped round each wheelchair fork and round the case. I got 68cm ones and joined together they worked on my carry-on sized case. Separately they'll be good for smaller loads.
I have to say the Quickie Caddy worked great - I was able to get myself from the disabled surface parking area at Edinburgh Airport to check in (including a diversion back to the car to affix a temporary disabled parking pass to it!) and I would have managed through security and all the way to the plane but I'd opted to check my luggage. I would have struggled to flick up a kerb because of the extra weight at the front (my case was approximately 10kg) but I didn't feel unstable at all and the manoeuverability wasn't massively impaired - my chair was still much easier to manoeuvre than the Red Cross one I had on loan last year! There is a ramp from the parking area to the terminal at Edinburgh and I managed that OK. At Charles De Gaulle I managed to get myself from baggage claim to the minibus which had come to collect us without problems and when I returned to Edinburgh I got from baggage claim back to my car on my own. I got one of my colleagues to take a picture when we got back: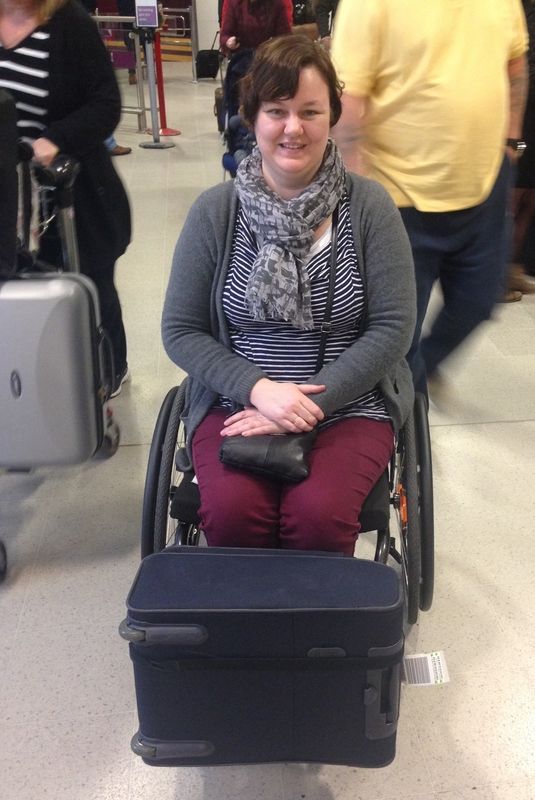 All in all everything went well - apart from a snag on arrival at both airports. Even though I'd gate checked my chair, it didn't manage to make it back to me at either airport. In both cases I was met at the door of the plane by someone with a wheelchair and they took me to baggage claim, where I found my own chair, but I haven't got to the bottom of how to ensure they bring me back my own. I remember having the same problem with the buggy a few times when L was small. In Edinburgh they kept assuring me "you'll find yours on the carousel" which had me slightly panicked. After the third time I said "it's two and a half grand worth of kit, I'd rather it didn't go on the carousel" someone went to intercept it! I think the lesson is to get it tagged as fragile at check in (they tag your chair at check in, just like other luggage, even though you're gate checking it).